Adrenaline Junkies – this one's for you. If you've been looking for an adrenaline-fueled adventure, New Zealand's South Island should be number 1 on your list. This region is world renowned for its heart-pounding adventure activities guaranteed to have the adrenaline racing through your veins. In this blog article, we will showcase some of the most thrilling attractions you can find to feed your inner daredevil. Be brave, strap in and let's get started!
Bungee Jumping in Queenstown
Indulge your senses with the ultimate leap of faith in the adventure capital of the world, Queenstown. Plunge off the historic Kawarau Bridge or take on the iconic Nevis Bungy, New Zealand's highest bungee jump. Feel the rush as you soar through the air and conquer your fears, surrounded by breathtaking natural beauty.
Skydiving in Wanaka
Experience an exhilarating freefall and breathtaking views over Lake Wanaka as you skydive from thousands of feet above. Tandem skydiving in Wanaka offers an unmatched adrenaline rush combined with awe-inspiring scenery that will make your heart race and leave you with memories to last a lifetime.
Off-Road Quad Biking in Arrowtown
Get ready for an off-road adventure on a quad bike in the rugged landscapes of Arrowtown. Explore the vast backcountry, conquer challenging terrain, and witness stunning panoramic views. With experienced guides leading the way, quad biking offers an exciting and adrenaline-fueled experience suitable for all skill levels.
Ziplining in Albert Town
Soar through the treetops and experience the thrill of ziplining in the scenic Albert Town. Feel the rush of adrenaline as you glide along high-speed ziplines, suspended above the stunning landscapes. Immerse yourself in the beauty of the surrounding forests while enjoying a unique and exhilarating adventure.
Jet Boating on the Shotover River
Hold on tight as you embark on a thrilling jet boat ride through the narrow canyons of the Shotover River. Speed through the pristine waters, navigate thrilling twists and turns, and feel the exhilaration of the jet boat's 360-degree spins. This iconic Queenstown attraction guarantees an adrenaline-pumping experience.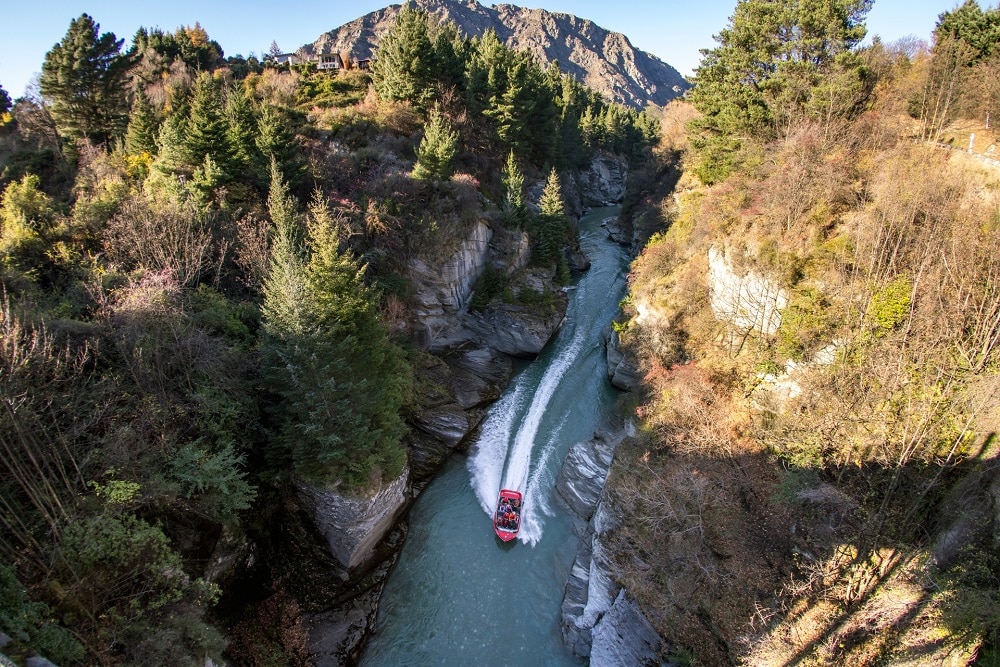 New Zealand's South Island, with its incredible natural beauty and rugged landscapes really does offer a paradise for thrill-seekers. So go on, embrace your inner daredevil and book a holiday at one of our New Zealand holiday parks today. You're sure to create unforgettable experiences with memories that send your adrenaline pumping long after your visit.
Plan your South Island adventure today!