When Winter casts its enchanting spell over New Zealand's South Island, its ski slopes come alive with snow enthusiasts and adventure seekers in search of glorious deep, white powdery snow. Boasting world-class slopes and breathtaking alpine scenery, these ski fields offer an unforgettable winter wonderland experience for both snowboarders and skiers. In this blog article, we will dive into the top ski fields you'll find in New Zealand's South Island.
Coronet Peak
Located a mere 20 minute drive from Queenstown, Coronet Peak is an easily accessible ski field that promises an unforgettable Winter experience. Offering diverse terrain suitable for all skill levels, from gentle slopes for beginners to challenging runs for advanced riders, Coronet Peak caters to everyone's snowboarding and skiing desires. The stunning panoramic views over Lake Wakatipu and the surrounding mountains add an extra layer of magic to your adventure. Don't miss the opportunity to experience the thrill of night skiing at Coronet Peak, where the slopes are bathed in a surreal glow.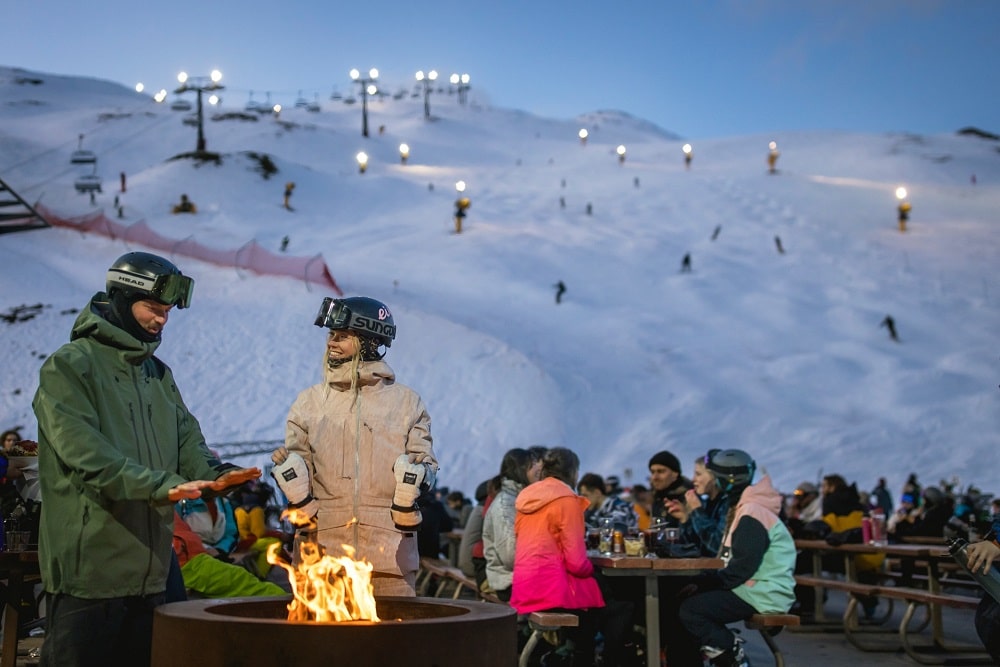 The Remarkables
Just a short 40-minute drive from Queenstown, The Remarkables ski field stands tall with its stunning alpine vistas and world-class facilities. Its proximity to Arrowtown and Queenstown makes it an excellent choice for visitors staying in these areas. With its varied terrain, including wide-open bowls, groomed trails, and thrilling off-piste areas, The Remarkables caters to all skill levels. Snowboarders and skiers seeking freestyle fun will revel in the four terrain parks that offer jumps, rails, and features suitable for every ability.
Treble Cone
Located a scenic 1-hour drive from Wanaka, Treble Cone stands as one of New Zealand's largest ski areas, offering an authentic alpine experience and jaw-dropping vistas. Known for its challenging terrain, steep chutes, and off-piste opportunities, Treble Cone appeals to experienced snowboarders and advanced skiers seeking adrenaline-fueled adventures. The expansive network of groomed trails and untouched backcountry areas make Treble Cone a true haven for powder enthusiasts.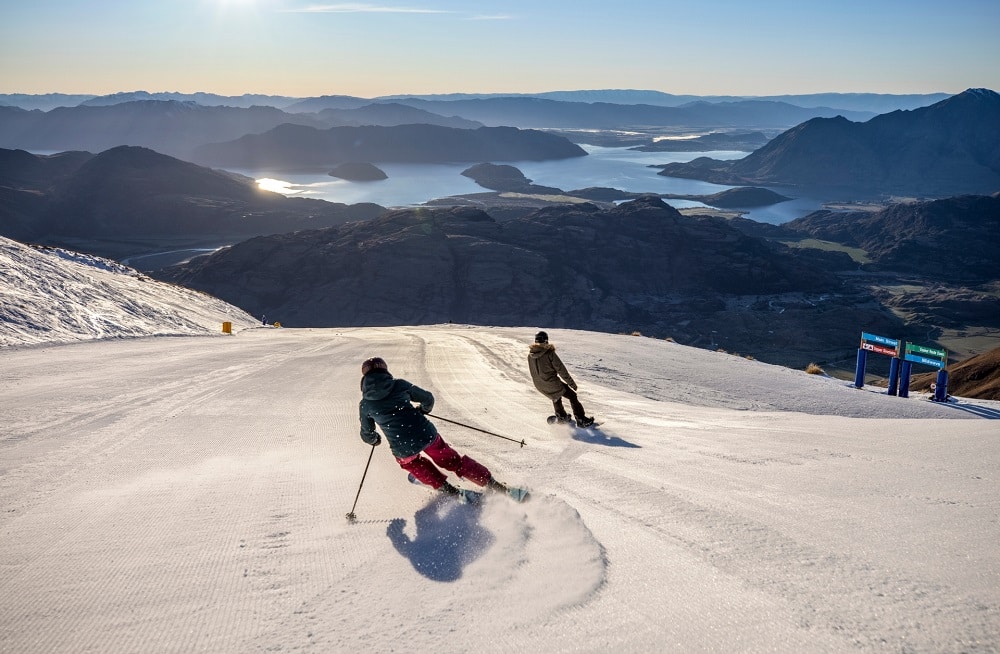 Cardrona Alpine Resort
Situated between a short drive from both Queenstown and Wanaka, Cardrona Alpine Resort is a picturesque ski field that offers an unforgettable snow adventure for all ages and skill levels. With its wide range of terrain options, including gentle beginner slopes, intermediate groomers, and challenging off-piste areas, Cardrona ensures an exciting and diverse experience. Families will appreciate the dedicated learner's area, while freestyle enthusiasts will delight in the world-class terrain parks, halfpipes, and natural hits that make Cardrona a freestyle paradise.
Mt Hutt
While not in immediate proximity to Queenstown, Mt Hutt is worth the journey for its consistent snow conditions and breathtaking scenery. Situated near the charming town of Methven, it is approximately a 3-hour drive from Wanaka and Arrowtown. Mt Hutt is renowned for its family-friendly environment and varied terrain suitable for all levels of riders. With an excellent snow record and well-groomed slopes, this ski field promises an exhilarating winter experience.
Pack your woollies and ski gear and get ready to hit the slopes – wherever you choose to go for a ski holiday in this part of the world, you'll rarely be disappointed. From the easily accessible Coronet Peak to the freestyle haven of The Remarkables, the family-friendly slopes of Cardrona Alpine Resort, the challenging terrain of Treble Cone, and the consistent snow conditions of Mt Hutt, each ski field offers its unique charm and thrills. Whether you're a seasoned snowboarder or a beginner eager to hit the slopes, these ski fields cater to all skill levels, ensuring an exhilarating experience for every winter enthusiast. So, gear up, embrace the snowy embrace of New Zealand's South Island, and let the mountains become the backdrop for your extraordinary winter escapade.