If you're seeking an action-packed holiday with plenty of water based activities, look no further than Queenstown and the surrounding lakes and rivers. There's a plethora of both exhilarating and relaxing activities to suit every water sports enthusiast. So, whether you're after a heart-pumping thrill or a tranquil experience, we've got you covered in this article!
Kayaking on Wanaka Lake
Discover the serenity of Wanaka Lake as you embark on a kayaking expedition. Glide across the pristine waters surrounded by awe-inspiring alpine scenery, including the majestic Southern Alps. Take your time exploring hidden coves, tranquil bays, and remote islands, all while relishing the tranquillity of this remarkable lake.
Jet Boating in Queenstown
Kickstart your water adventure in Queenstown, the adventure capital of New Zealand, with an exhilarating jet boating experience. Climb aboard a high-speed boat, hold on tight, and prepare for a thrilling ride through narrow canyons and adrenaline-inducing 360-degree spins. With expert guides at the helm, jet boating in Queenstown is an adrenaline-pumping adventure you won't want to miss.

Stand-Up Paddleboarding on Lake Hayes
Discover the serene beauty of Lake Hayes  near Arrowtown while gliding atop a stand-up paddleboard. Perfect for all skill levels, stand up paddleboarding allows you to explore the calm waters at your own pace. Take in the panoramic views of rolling hills and The Remarkables mountain range as you enjoy this peaceful and relaxing activity.
River Tubing in Albert Town
For a unique and laid-back water activity, try river tubing in Albert Town. Float down the gentle currents of the Clutha River, enjoying the sunshine and stunning surroundings. The idyllic experience allows you to take in the picturesque landscapes, lush forests, and abundant birdlife that make this region so captivating.
Lake Cruises on Lake Wakatipu and Wanaka Lake
Indulge in a leisurely lake cruise on either Lake Wakatipu or Wanaka Lake, soaking in the stunning panoramic views of the surrounding mountains, pristine waters, and charming lakeside towns. On Lake Wakatipu you can jump on board the TSS Earnslaw a century-old coal-fired steamship. Don't forget your camera to capture the captivating landscapes that unfold before your eyes.
Canyoning in Queenstown and Wanaka
For the adventure seekers, canyoning in Queenstown and Wanaka provides an adrenaline-fueled experience like no other. Descend cascading waterfalls, leap into crystal-clear pools, and navigate through stunning canyon formations. With professional guides ensuring safety, canyoning offers a thrilling combination of hiking, swimming, and rappelling, providing an unforgettable adventure in the heart of nature.
Fishing Trips in Queenstown and Wanaka
Cast your line and try your hand at fishing in the pristine lakes and rivers surrounding Queenstown and Wanaka. These regions are renowned for their abundance of trout, making them a paradise for fishing enthusiasts. Whether you're a seasoned angler or a novice, fishing trips offer a peaceful and rewarding experience amidst breathtaking natural surroundings.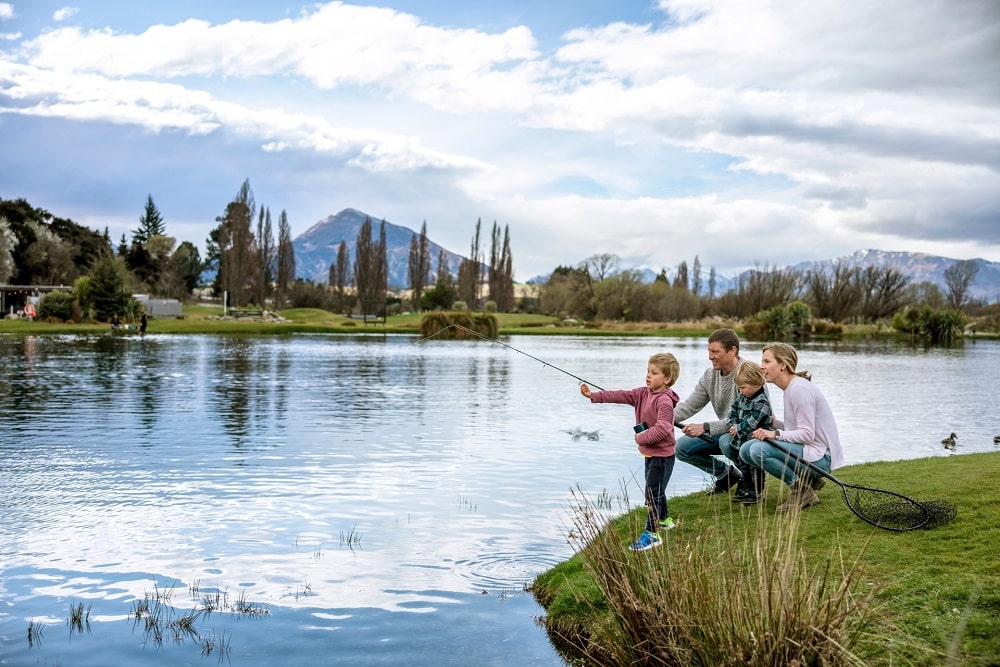 What are you waiting for? Pack your sense of adventure (and your wetsuit) and start planning your next wet and wild adventure today.